Pets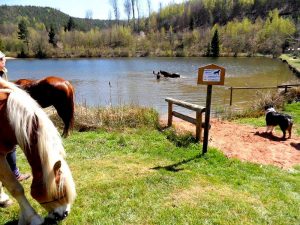 Pets are welcome on the campsite
(except dogs 1. and 2. category)
as well as in our rental accommodation.
We ask them to be leashed, vaccinated and identified.
Take the vaccination passport with you.
Thank you not to forget to pick up the "gifts" they would leave along the way 😉
Only 1 dog per pitch/accomodation.
… in the accomodations
For the accommodation, dont forget to bring his cover or basket.
In your absence your pet can not stay alone on the pitch or in the accomodation.
… bathing in the pond
We have especially created an access to the pond for them (near the entrance to the campsite just next to the overflow)
where they can swim or drink, and keep cool on hot days.
For hygenical reasons, they are not allowed to come with you on the island where bathing beach is located.
All around the campsite there has lovely walks to do with them.
Some neighbourhood rules
for your dog
—> clic on the image to enlarge it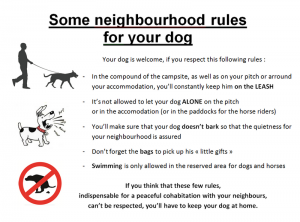 We wish you a "furry" stay !