Swimming and fishing exclusively allowed for our campers
Discover the pond (2 ha) and its central isle, which will delight swimmers and fishers.
Depth 3m, bed of sand, beach for sunbathing and easy entry in the water, reed, fish… pure nature.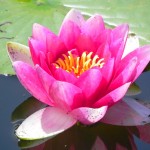 The pond is fed by a river, and it drains off in another pond.
The water moves constantly, which is very important for the fauna and flora.
No stagnating water, no mosquitos.
Swimming
Nothing isn't as nice as taking a refreshing bath in the lake when the sun is shining.
We can already see you, lying on the beach, with its fantastic view on the forest and its majestic pinetrees.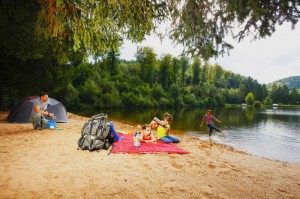 The access to the beach on the isle is easy, thanks to the levee.
The access to the water is easy and gradual.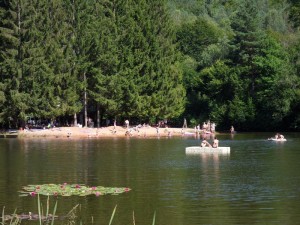 Showers and toilets are at your disposal on the isle.
Don't hesitate to bring your air matrass or inflatable dinghy…
We wish you a refreshing stay !
Fishing
A part of the pond is used by fishers.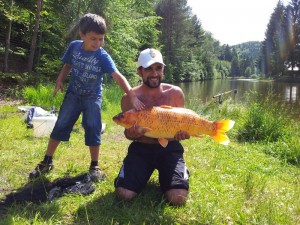 .
.
The KOI CARPS and STURGEON are our mascots !
In case of fishing them, you need to put them IMMEDIATELY and DELICATELY back in the water.
.
.
Among the fish in our pond you will find roaches, perch, tench, carps, trouts, pikes…Regular stocking with young fish.
In order to fish in our pond, you need to purchase a nominative fish card at the reception desk.
The fishing cards are nominative.


 .
FISHING REGULATION : fishing is reserved for our clients
 .
While fishing, the angler must carry the fishing card with him and present it at any control.
For 1 adult = 2 lines
For 1 youth – 16 years old = 1 line (1 fishing rod or 1 fish launched)
Fishing allowed from 6.00 am/6h00 to 9.30 pm/21h30
• In APRIL – MAY – JUNE – SEPTEMBER :
..fishing is authorized in ZONES 1 – 2 – 3
•  In JULY – AUGUST :
– fishing is authorized in ZONES 1 – 3 (priority to rowing in ZONE 1)
– no fishing in ZONE 2 (swimming only)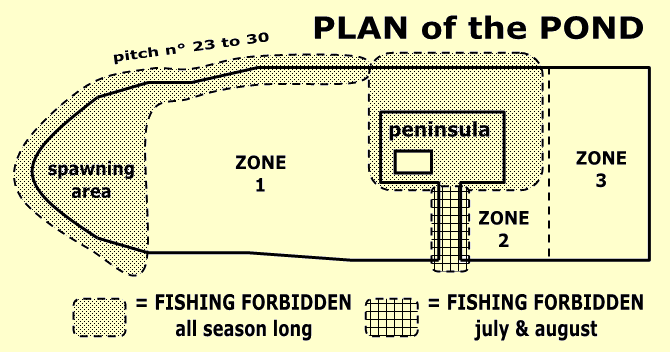 .
.
.
.
.
.
.
.
• For trouts, the daily catch is limited to 4
..For pikes, the daily catch is limited to 1
• Pike fishing only with live bait, double hooks accepted, TRIPLE HOOKS
• No fishing with a rod without the presence of the card holder
• No fishing from a boat or inflatable boat
SIZES TO BE RESPECTED
roach – perch : unlimited size and number
pike : min 60 cm / tench : min 40 cm / trout : min 23 cm / grayling to be eliminated
NO KILL fishing :
– Fishing with a single hook with its barb crushed
– ALL carp and sturgeon must be released immediately
– MANDATORY : provide a landing mat
FORBIDDEN :
– no COBRA baiting with meatballs and rough seed (baiting : maximum 1 liter flower bait only)
– baiting by boat ; it is strictly forbidden to install fishing lines
– hempseed, spoons, triple hooks, all lures, mepps
– boat fishing, crayfish fishing
– no fishing in the spawning grounds, nor on the presque-isle
SILENCE : In the morning, please respect the sleep of those who are still sleeping. No talking out loud.
Vehicle : It must be parked on the rented pitch or at the parking in the entrance, but under no circumstances on the edge of the pond.
Motorised traffic is not permitted from 10 pm/22h00 to 7 am/7h00
THE CLEANLINESS OF THE POND and its surroundings is everyone's responsibility, including the fishermen ! Please take your rubbish away at the end of each fishing trip.
Failure to comply with these rules will result in the withdrawal of the card.
Have a nice fishing session !