Swimming and fishing exclusively allowed for our campers
Discover the pond (2 ha) and its central isle, which will delight swimmers and fishers.
Depth 3m, bed of sand, beach for sunbathing and easy entry in the water, reed, fish… pure nature.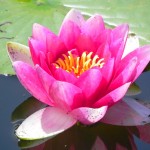 The pond is fed by a river, and it drains off in another pond.
The water moves constantly, which is very important for the fauna and flora.
No stagnating water, no mosquitos.
Swimming
Nothing isn't as nice as taking a refreshing bath in the lake when the sun is shining.
We can already see you, lying on the beach, with its fantastic view on the forest and its majestic pinetrees.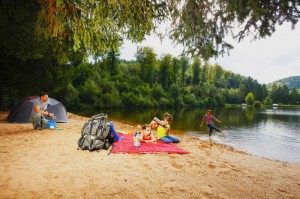 The access to the beach on the isle is easy, thanks to the levee.
The access to the water is easy and gradual.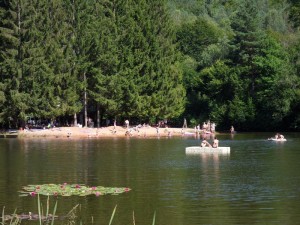 Showers and toilets are at your disposal on the isle.
Don't hesitate to bring your air matrass or inflatable dinghy…
We wish you a refreshing stay !
Fishing
A part of the pond is used by fishers.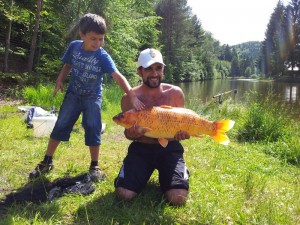 Look out for our Mascots !
The KOI carps are ornemental fishs.
They are our mascots, our good-luck charms.
In case of fishing them, you need to put them IMMEDIATELY and DELICATELY back in the water.

We wish them a long and happy life in our pond.
Among the fish in our pond you will find roaches, perch, tench, carps, trouts, pikes…
Regular stocking with young fish.
In order to fish in our pond, you need to purchase a nominative fish card at the reception desk.
fishing card Price

Fishing rules : fishing is reserved for our clients
In APRIL, MAY, JUNE, SEPTEMBER: fishing is authorized in ZONES 1 – 2 – 3, from 6 am until 9.30 pm.
In JULY and AUGUST:
– fishing is authorized in ZONES 1 – 2 from 6 am until 9.30 pm (priority to rowing)
– no fishing in ZONE 3 (swimming only)
Fishing limits : 4 trouts per day, unless 1 pike per day.
Pike fishing only with live bait, double hooks accepted, TRIPLE HOOKS FORBIDDEN.
No fishing without card (nominative).
FORBIDDEN :
– no COBRA baiting with meatballs and rough seed (baiting : maximum 1 liter flower bait only)
– baiting by boat ; it is strictly forbidden to install fishing lines
– hempseed, spoons, triple hooks, all lures, mepps
– boat fishing, crayfish fishing
– no fishing in the spawning grounds, nor on the presque-isle
Silence : please respect the sleep of our other guests. No noise in the morning!
Vehicle : No circulation between 10 pm and 7 am, your vehicle need to be parked on your pitch or on the carpark. No car parking on the pond bank.
Everyone (fishers included) is responsible for the neatness of the pond and its surroundings! We ask you kindly to take your garbage with you after your fishing session.
In case of non-respect of above rules, your fish card will be confiscated.
Have a nice fishing session !