A campsite juste like us : close to nature
Our love for nature was one of the motivations to create this small scale family campsite, a nice place where you will find rest and tranquillity.
You will appreciate the green surroundings and our way of life without stress.
Leave your daily worries behind and come relax and recharge your batteries.
Our whole team does its best to create a nice and friendly atmosphere : a warm welcome, accurate and truthful information, neat and clean spot…
The 4th rewarde star since 2012


Since its foundation until 2012 our campsite was awarded with 3 stars. In 2012 we were rewarded a stuffe higher : an additional 4th star was allotted to us.
"This higher stuffe guarantees our customer:
– a courteous welcoming in a well maintained establishment
– an accurate and complete information on services
– the treatment and monitoring of satisfaction and complaints
– a team that has been sensitized to the reception of disabled customers
– a team that has been sensitized for sustainable development
www.classement.atout-france.fr
Tranquility – Rest – Relaxation


We made the choice to show all the best of the beautiful nature that is surrounding us and propose yoiu to tune into it…
Take your time, in the morning, to have a relaxing breakfast before your morning walk around the campsite;
enjoy your lunch in the sun, with a beautiful view on the pond.
After lunch, it's time for a nice nap in the shadow of the big pine-trees.
In the afternoon you can take a refreshing dive in the pond or try to fish a nice dinner !
You will finish your day contemplating the stars or dream away near the campfire.
And tomorrow you will do it all over again. If you wish…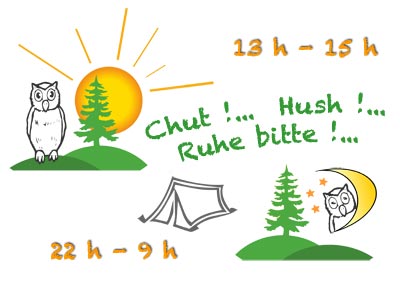 In order to assure you a calm stay, we kindly request you to be silent from 1 until 3 pm and 10 pm until 9 am.
During those hours, please don't throw away your bottles, don't talk loudly, lower your musique or TV, do not mow the lawn etc…
We hope you will leave our campsite as fresh and relaxed as a daisy, with lots of energy to start "normal" life again!
Wifi and Telephone
We made the choice to create a wifi-zone (free) near the minimarket for those who want to stay tuned.
Those who suffer from electromagnetic hypersensitivity won't be perturbed.
Regarding your phone connexion, the campsite is a white spot, because of its surrounding hills.
Cleanliness and maintenance
We hope you appreciate the energy we use day after day in order to clean up the whole campsite.
Scraps of paper, cigarette butts… nothing escapes to our vigilance!
Respected environment
– Our cleaning agents are natural : white vinegar, essential oils, silver stone ade of clay… and we use reusable microfiber rags ; we dont use "disposable"

– We don't use any aggressive herbicide nor slug bait, but the fairy-fingered team or the
– We use collected flower seed and only natural fertilizers
– Limited sprinkling
– Use of environmentally preferred paints
– Our documentation is printed with vegetable oil ink on recycled paper;
In our office we try to limit our paper and ink consumption
– Waste sorting : glass, paper-cardboard, compost…
(you will find a wast sorting basket in all our rental accommodations)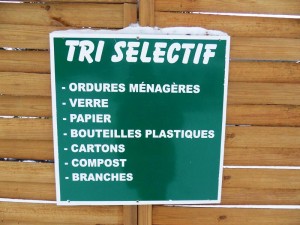 – Our campsite is equipped with temporized taps in order to save water
– Our outside lighting uses economic light bulbs and crepuscular sensors
– We have some unusual guests who occupy our "hotel for insects"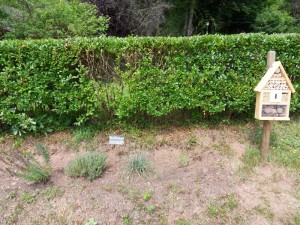 – Every season we welcome our natural insecticides: frogs, birds, bats and hedgehogs.
As they eat mosquitos, the latter won't disturb you.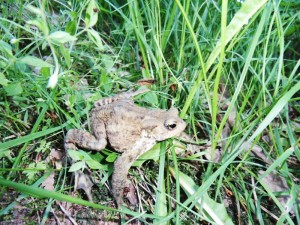 – The campsite has its own wastewater treatment plant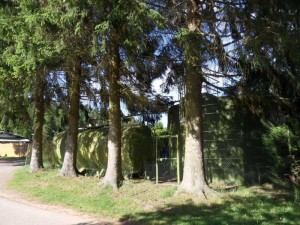 – We control regularly the quality of the drinking and swimming water
– Our electrical vehicules are our best allies to cover the 12 hectare domaine. They are ecological and noiseless, that looks like us !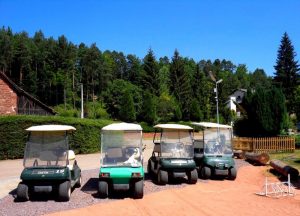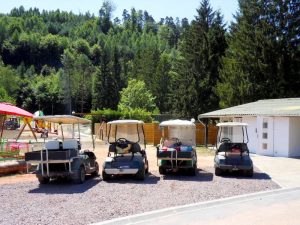 We hope we did everything in order to propose you
a "green" holiday on our campsite!