The campsite is open from april 1st until september 30th
Reception / Welcome and Informations
We are delighted to welcome and informe you from 9 am to 9 pm.
Out of hours, thank you for contacting us before.
We will arrange to welcome you.
Access barriers to the campsite – Vehicle movement
The barriers of the campsite, set up for the security and tranquility of our campers, operate from 7am to 22pm.
If you came back later than 10am, you can park your car in the car park outside the campsite.
The movement of motor vehicles is forbidden from 10pm to 7am.
Access card to the barriers
Operation :
The card will be given against 30 € deposit which will be returned in exchange for the safe return of the card.
Barriers operate from 7am to 22pm.
The access card is unique to you and is not suitable (even as a service).
It is valid for only one vehicle.
It allows you to be free and independent.
For medical emergency and your security, on-site there is a presence of 24 hour/7 day, reachable by the "information belll" near the barriers to entry to the campsite.
The site is guarded.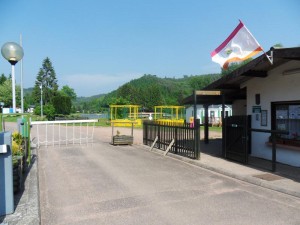 Quiet… rest in progress

To ensure you a relaxing stay, we ask our campers for respecting silence during the nap time from 1pm to 3pm and night from 22pm to 9am.
Accepted payments
Cash – cheques – bank transfer – CB – Visa – Mastercard
On request at the reception we will lend against deposit
– Recreation: board games, table tennis rackets and badminton, balls, bowling balls …
– Services: hair dryer, iron, baby bathtub …
Shower coins and laundry
Shower coins, washing coins, drying coins are
Les jetons de douche, de lavage et de séchage are on sale in the minimarket.
Deposit cold packs
Possibility to drop off your cold packs in the freezer in the minimarket.
Gas
Gas bottle 28 lbs (butane et propane) are on sale in the minimarket.